As opposed to "Disposable Home Medical Equipment", DME-HME is reusable equipment which can be operated and managed by a non-professional or family member in the patient's own home environment. Oftentimes this provides for the best quality of life for the individual, as they don't have to limit themselves to being in a hospital or other type of care-giving facility.
As we age, our bodies may require more attention in order to remain healthy and functional. While there's no stopping the hands of father time, we can all do our part to age gracefully and satisfy the needs of our bodies, which is something everyone should do for both themselves and their families. Durable Home Medical Equipment and Supplies can help one accomplish this by satisfying the specific needs of seniors.
While nursing homes may be able to provide the care an elderly person requires, it can oftentimes leave a patient feeling lost and depressed. After all, no one likes being forced into such facilities. Home medical equipment can give elderly people another option, however. By placing the supplies needed for their health and well-being into their own home or the home of a family member, they will have peace of mind knowing they are well-taken care of and are in a friendly environment.
The use of Durable Home Medical Equipment and Supplies isn't limited to just the seniors. Younger or even middle-aged people who suffer from illness or other health conditions may also require the use of such supplies in order to remain healthy. Blood glucose monitors are one of the most common types of Home Medical Equipment used by millions of people worldwide. Before the invention of such devices, an individual suffering from diabetes would have to make a trip to their doctor or hospital to check their blood glucose levels. Now, though, they can safely check the levels themselves in a matter of second. Other types of commonly-used DME-HME Home Medical Equipment include hospital beds, wheelchairs, rollators, walkers, scooters and body slings just to name a few.
Caregivers may also benefit from the use of DME-HME. Whether you're professionally trained or someone who is just trying to help a friend or family member, the use of Durable Home Medical Equipment can help assist you in providing not only better care, but an overall better environment for the patient.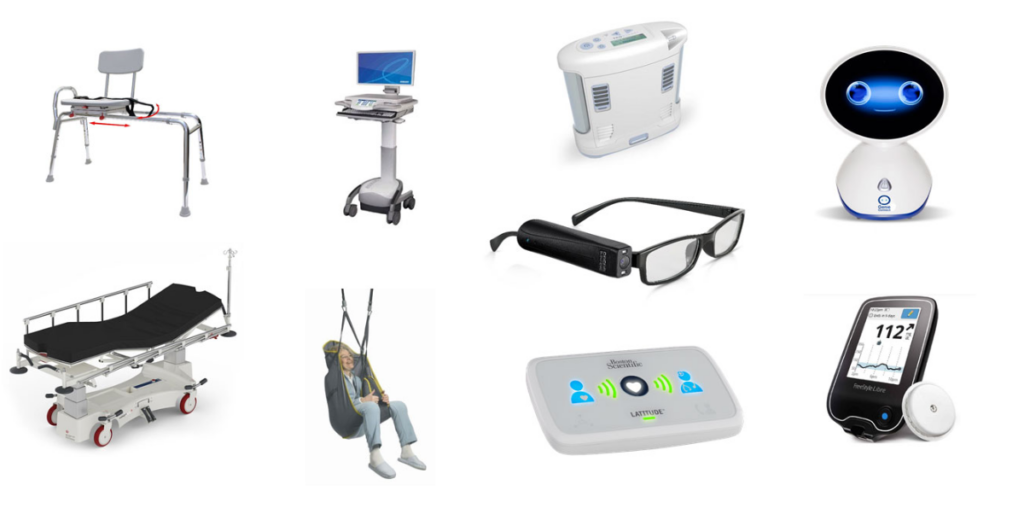 Taking care of ourselves and those we love should be a top priority for everyone. Durable Home Medical Equipment, Supplies and Products will help one accomplish this in the environment of one's own choosing.
RoSa Medical Supply™ is a leader in providing high quality Durable Home Medical Equipment and Supplies at cheap everyday discount prices to independent individuals, adult day cares, assisted living homes, nursing homes and clinics in the Medical community. We offer a wide variety of DME and HME mobility products including walkers, rollators and wheel chairs. Our Durable Home Medical Equipment for the bathroom and showers, along with our bed rails and stability products can help to enable individuals in their environment. At Rosa Medical Supply we also deal in orthopedic Medical Supplies of cervical neck collars and back braces. High quality body slings and lifts are available for care providers of adults and the disabled. Precision scales are available for clinical and in home use. We offer top of the line selections at the best competitive prices. Please contact us directly for quantity discounts. We are dedicated to our customers and provide responsive service to any inquiry or order.